Tu che di gel sei ginta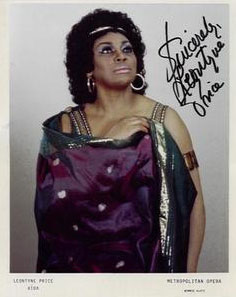 Tu che di gel sei ginta (Sung by unknown soprano)
Tu che di gel sei cinta,
Da tanta fiamma vinta,
L'amerai anche tu!
Prima di questa aurora,
Io chiudo stanca gli occhi,
Perche egli vinca ancora
Ei vinca ancora
Per non vederlo piu!
Leontyne's role as Liu, in Puccini's
Turandot
, leaves me lifted, swept off, and out of breath. Her voice holds me and battles my attention, as not to let me go without a fight. I am consumed by her voice when listening to this...one of my favorite pieces.
Without going too deep, Liu sings passionately to the Princess Turandot, known for her icy demeanor and untouchable status, that soon that facade will fade, and she (Princess Turandot) will have the same love that Liu (a slave girl) has for the Unknown Prince, who she loves but sacrifices her life for. So unselfish...so pure is Liu's love for the Prince, that she knowingly entreats Princess Turandot to dare...to love.
*starry eyed*
And I'm listening to it now, knowing damn well that I have other things to do, and yet...I can't stop hitting repeat.
Anyway...so much for sharing.